What You Can do with This Free Online Notepad
Use this free notepad online to take quick notes on the go anywhere anytime
One can use rich text editor mode for advanced formatting
This Online Wordpad can create a simple and editable to-do list for daily tasks.
It helps you note text online and instantly preserve new ideas
Our notepad online comes with a password protection option to Keep your files safe.
It helps you write and save concise social media posts online.
This online writing notepad allows you to write blogs and articles while staying organized.
How does it Work
Write or Import Your File
Simply visit Our online notepad through any browser of your choice with any operating system I.e, Windows, OS, android and start writing notes online. Our online word pad also allows you to upload your word/PDF/.txt files to work with them.
Edit Your File
Now start writing right upfront the page that appears or you can import any word/PDF/.txt document to
Write in it
To organize the structure or formatting
To create a to-do list for daily tasks
Download Notes In Multiple Formats
Once you are done with writing, you can download your note in multiple formats like word/PDF/.txt or edit it for more clarity or better formatting, share it with others, preview it, save, or encrypt with the lock option.
Who Can Use this Online Wordpad?
Students can use our online WordPad to write essays, assignments, and daily tasks.
Writers can use it for writing blogs and articles.
Entrepreneurs can save ideas, links, and short points to this online text notepad.
Content managers can use this free notepad for text formatting.
Researchers can maintain the record of several research papers.
Common users can write a daily diary in this tool and lock it with encryption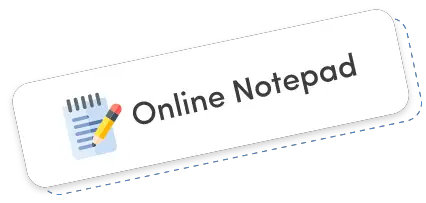 Key Features of Our Online Notepad and Text Editor
Easy Notetaking
Online-notepad.net allows you to write notes online with maximum ease of access and use. Simply visit our online notepad, write, save, and go.
Protect Your Saved Notes
No matter what type of text you write, nobody can sneak into your files since your online notes could be opened by the URL only. It's a writing notepad with a password protection option so the user can encrypt each file with a password.
Advanced Notepad and Text Editor
Along with a handy Wordpad online, Our notepad also has a fine text editor that enables you to edit the text just as you want. With its rich text editing features, you can edit lengths and other characteristics of text i.e, font, size, style, shape, and many others.
Full Options Notepad
Considering the range of options given in our online text editor, this is undisputedly the best available option for online notes taking and text editing. It's a free online editpad plus a smart text editor, with file encryption, sharing, and downloading option.
A Simple, Productive and Privacy Protected Notepad.
Users get a rich experience of writing and editing notes with a user-friendly layout
Allows you to manage multiple files at a time and perform several actions on all,
It can keep the files protected with encryption and personalized password.
It works with an ultra-fast speed.
FAQS
NO! You do not need to sign up or log in with any personal details at all. All you need is visit our website and instantly start writing or editing whatever you want.
Yes! Right from writing to editing text online, sharing, encryption, and downloading, every feature is absolutely free. We do not restrict your number of uses.
Well, since it is an online notepad where all operations are performed on Cloud, we do not have direct access to your files nor do we store or retain any of your data with us so yes, your files are absolutely safe.
Yes! You can write, edit and manage multiple files at one time with our notepad online meanwhile having a complete view of all other files simultaneously.